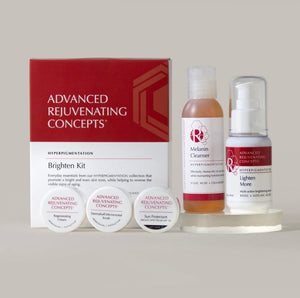 KIT FOR HYPERPIGMENTED SKIN 
The combination of environmental stress, UV and pollution, and hormones all contribute to skin discolorations, age spots, and lackluster skin.
Our Hyperpigmentation Collection is specially formulated to help combat the visible signs of sun damage, fade discolorations and age spots, and restore a bright, luminous skin tone and texture.
Amino Acid Brightening [Lysine + Cysteine] proteins that help strengthen the skin, assist with hydration, and improve elasticity, tone, and suppleness.

Epidermal Growth Factor [rh-Oligopeptide-2 + Acetyl Tetrapeptide-7] boost cell activity and trigger the regeneration of new skin cells to help reduce the appearance of discolorations, age spots, and fine lines, while encouraging a softer, smoother skin texture.
Hyper-pigmented Skin
Contains:
2 oz. Melanin Cleanser and Fruitzyme Conditioner
.25 oz. Regenerating Cream with EGF
.25 oz. Dermabuff Crystal Exfoliant
.25 oz. Sun Protectant