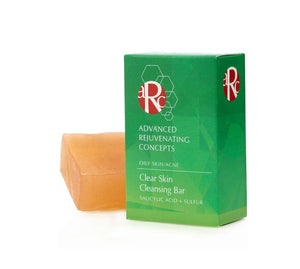 Face and Body Acne Bar 
Natural oil control cleansing bar with antimicrobial support to help improve acne concerns on the face and body.
Exfoliating Antimicrobials [Sulfur + Salicylic Acid] encourage exfoliation, release blocked pores, and constricts pores to prevent future breakouts. Bacteriostatic benefits help reduce infection and inflammation.    
Cleanses, conditions, and exfoliates
Reduces breakouts and blemishes
Face and body glycerin bar
IDEAL FOR: Oily Skin and Acne
SIZE: 3.5 oz wt.