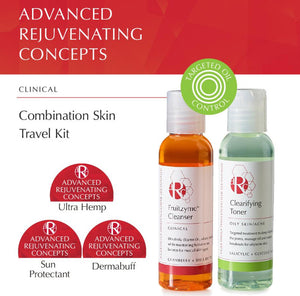 T-ZONE OIL CONTROL  
Commonly referred to as t-zone, combination skin types have increased oil and shine from the forehead, down the nose, and dry patches on the cheeks. Combination Travel Kit delivers the right balance of oil control and hydration to keep your skin radiant while helping to prevent sun damage and blemishes.
Cranberry Extract refines the pores and removes dead skin to deliver an exceptional deep-pore cleansing experience.

Hydroxy Acids [Glycolic + Salicylic Acid] encourage exfoliation, release blocked pores, and constricts pores to prevent future breakouts. Bacteriostatic benefits help reduce infection and inflammation.

Shea Butter and Glycerin hydrate and moisturize for soft, supple skin.
KIT INCLUDES:
Fruitzyme Cleanser 2 oz
Clearifying Toner 2 oz
Ultra Lite Lotion 0.25 oz
Dermabuff Exfoliant 0.25 oz
Sun Protectant 0.25 oz