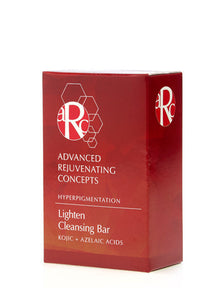 Face & Body Brightening
Improve the look of mottles skin tone, age spots, freckles, and stubborn discolorations. Lighten Bar is formulated with key tyrosine inhibitors to address pigmentation concerns caused by sun damage or hormonal melasma. 
Lightening Blend [Kojic Acid + Azelaic Acid] natural solutions that effectively penetrate layers of skin to inhibit pigment formation and offer beneficial antimicrobial benefits for post-inflammatory pigmentation.
Inhibits melanin synthesis
Tested across all skin tones
Paraben, sulfate and fragrance free
IDEAL FOR: Normal, Combination, and Oily Skin
SIZE: 3.5 oz wt