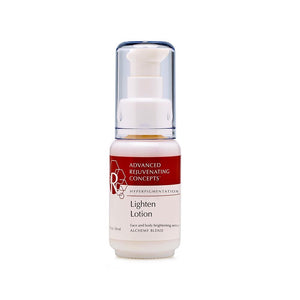 A BRIGHT SOLUTION FOR DARK SPOTS  

-  Promotes an even tone
-  Tested across all skin tones
-  Complements HQ prescriptions
-  Light hydration for a luminous finish
High strength, color-blind brighteners help suppress melanocytes and promote a more even complexion. Infused with high strength tyrosine inhibtors, AHA, and vitamin C, Lighten More and Lighten Lotion promote a smoother, brighter, and more even complexion for skin of all color.
1 fl oz (30 ml)
SKIN TYPE
-  Normal to Dry
-  Combination 
-  Sensitive 
 CONCERN
-  Melasma  
-  Sun Damage
-  Face & Body
HOW TO APPLY
Use this serum every morning. Apply to clean, dry skin and allow it to penetrate. Follow with a moisturizer and sunscreen.  
KEY INGREDIENTS
ALPAFLOR BRIGHTENER 

Patented blend of botanical extracts from the Swiss Alps
that contain polyphenols, flavonoids, and peptides, that
synergystically brighten and encourage an even skin tone.

VITAMIN E + GRAPESEED

Provides lightweight moisture, antioxidant protection,
supports collagen, and replenishes and hydrates for a healthy skin barrier.
INGREDIENTS: Aqua, Vitus Vinifera Oil, Helianthus Annuus Oil, Malva Sylvestris Extract, Mentha Piperita Leaf Extract, Primula Veris Extract, Alchemilla Vulgaris Extract, Veronica Officinalis Extract, Melissa Officinalis Lead Extract, Achilea Millefolium Extract, Glyceryl Stearate, Cetearyl Glucoside, Caprylic Acid, Glycine, Tocopherol, Glycerine, Fragrance, Xanthan Gum, Rosmarinus Officinalis Leaf Extract, Methylparaben, Propylparaben.