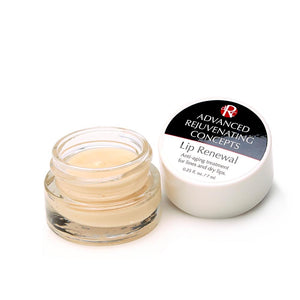 Anti-Wrinkle Lip Moisture:  
Restores a soft, dewy look to the lips, while promoting collagen synthesis for fuller-looking lips and the prevention of lip lines.
Palmitoyl Oligopeptide is exclusively formulated to reduce the appearance of lines via collagen, fibronectin and hyaluronic acid synthesis to help repair the dermal fiber network and diminish the look of lip lines.
Green Tea Polyphenols deliver anti-inflammatory, antioxidant, and anti-carcinogenic benefits to the skin to prevent collagen breakdown.
Moisturizing Fatty Acids [Shea Butter, Cocoa Butter + Jojoba] nourish, soften and plump the skin. 
Rejuvenates lips
Smoothes lip lines
Heals dry, chapped lips
Paraben and fragrance free
IDEAL FOR: Normal, Combination, Dry, Oily, and Sensitive Skin
SIZE: 0.25 oz
Lip lines and furrows are the result of a combination of UV and environmental damage, intrinsic aging, and repeated muscle contractions. Prevent the formation of deep creases and help correct existing lip lines with a combination of antioxidants and peptide therapy. 
Lip fillers and injections can temporarily reduce the appearance of lip lines. Pairing your injection treatments with products like Lip Renewal and Luscious Lips can increase the results you achieve over time.