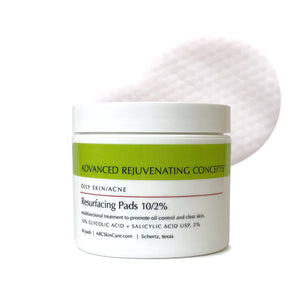 Easy Acne Management: 
Reduce surface oil and remove cell buildup with a convenient and easy-to-use pad. Each pad delivers exfoliating and antimicrobial support to help manage acne.
Hydroxy Acids [2% Salicylic + 10% Glycolic] exfoliate cellular buildup, keep pores clear, reduce excess oil and prevent breakouts. 
Use after workouts to clean skin
Revitalizes skin texture and tone
Assists with oil control 
Paraben and fragrance-free 
IDEAL FOR: Combination, Oily and Acne Skin; Bumps, Congestion, Blackheads, Clogged Pores
SIZE: 60 pads
USE: Apply at night, following cleansing. Start using 2-3 times a week, building to nightly use as skin permits. 
INGREDIENTS: Acetone, Ammonium Hydroxide, Disodium EDTA, Glycolic Acid, Hamamelis Virginiana (Witch Hazel) Water, Salicylic Acid, Imidazolidnyl Urea, Polysorbate-20, Purified Water, SDAlcohol 40B, Sodium Benzoate.
THINGS YOU SHOULD KNOW BEFORE USING GLYCOLIC AND RETINOL
Because these ingredients bring fresh, new skin to the surface, you will be sun sensitive. Damaged skin cells contain pigment and have hardened to protect your skin from the elements. New skin cells do not have this shield. Make sunscreen and a vitamin C serum part of your morning ritual to protect your skin from photo-aging.  
If you're new to using glycolic and/or retinol, take it slow. Start your path to rejuvenation by using these ingredients 2-3 times a week, gradually increasing as your skin tolerates. In some cases, your skin may be too sensitive, and there are alternative products available for individuals who can't tolerate high doses of glycolic or retinol.