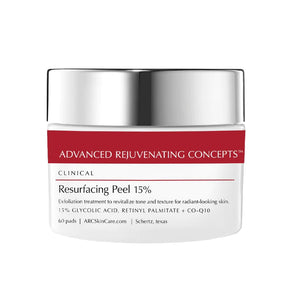 Functional Exfoliation
Easy-to-use glycolic pads formulated with CoQ10 and Vitamin A to smooth the look of lines, wrinkles, and discolorations as you sleep.
Glycolic Acid influences collagen synthesis, encourages cell turnover, and exfoliates skin to improve tone and texture.
Ubiquinone [CoQ10] helps reduce damage caused by free radicals and oxidative stress, and encourages collagen and elastin synthesis. 
Ideal for experienced glycolic users
Revitalizes skin texture and tone
Combats dehydration and dull skin
Reduces the look of lines and wrinkles
Diminishes pore appearance
IDEAL FOR: Normal, Combination, Oily or Dry Skin
SIZE: 60 pads
USE: Apply to clean skin at night. First-time glycolic users should start using 2-3 times a week, gradually increasing to nightly application as the skin permits. 
INGREDIENTS: Water, Glycolic Acid, Ammonium Hydroxide, Hamamelis Virginiana (Witch Hazel) Water, Polysorbate-20, Phospholipids, Retinyl Palmitate, Tocopheryl Acetate, Ascorbyl Palmitate, Ubiquinone (CoQ10), Disodium EDTA, Sodium Benzoate, Menthol, Acetone, Imidazolidinyl Urea. 
THINGS YOU SHOULD KNOW BEFORE USING GLYCOLIC AND RETINOL
Because these ingredients bring fresh, new skin to the surface, you will be sun sensitive. Damaged skin cells contain pigment and have hardened to protect your skin from the elements. New skin cells do not have this shield. Make sunscreen and a vitamin C serum part of your morning ritual to protect your skin from photo-aging.  
If you're new to using glycolic and/or retinol, take it slow. Start your path to rejuvenation by using these ingredients 2-3 times a week, gradually increasing as your skin tolerates. In some cases, your skin may be too sensitive, and there are alternative products available for individuals who can't tolerate high doses of glycolic or retinol.